Print This Post
Written by Wellness Club on October 10, 2013 – 4:52 pm -
Part VII of a multi-installment series on cholesterol and the dangers of statin drugs.
By Nurse Mark
Pity the poor statin drug.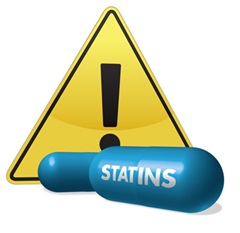 Despite the best efforts of the Big Drug companies to bury any and all negative news regarding the safety of this drug, research keeps finding it's way into the public eye showing just how harmful it really is.
After spending more than two decades developing a "Miracle Drug" reputation for it and creating a cult-like following among conventional doctors and a conspiracy of false hope among patients looking for some easy way to avoid heart disease, Big Pharma must be realizing that this class of drugs – that raked in over $26 Billion a year at it's peak – may no longer be their top cash cow.
Not only are sales of cheaper generic statins cutting into their profits, it now seems like hardly a week goes by without yet another major study pointing out more problems with the drugs.
We recently wrote about the statins / diabetes connection in Part II of this series: Trade Your High Cholesterol For Diabetes!
Recently, more damaging studies have been published showing a diabetes / eye health / statin use link.
Last year Canadian researchers at the University of Waterloo School of Optometry reviewed the records of nearly 6500 patients and concluded:
"… statin use was substantially higher in patients with type 2 diabetes and was associated with AR [Age Related] cataracts."
In the study, known as the Waterloo Eye Study, researchers found that diabetes was associated with an 86% higher risk of developing cataracts.
Statin use was also associated with a significantly increased risk of developing age-related cataracts, including a 48% higher risk of nuclear sclerosis and a 48% rise in posterior subcapsular cataract.
In their analysis of cataract prevalence among patients with and without diabetes taking statins, researchers found that the development of cataracts increased at an even faster rate in patients with diabetes who also used statins.
Adding to that, just last week researchers who analyzed over 45,000 subjects in a military healthcare system published their findings which showed that the risk of developing cataracts was 29% higher in statin drug users. Their conclusion?

"The risk for cataract is increased among statin users as compared with nonusers. The risk-benefit ratio of statin use, specifically for primary prevention, should be carefully weighed, and further studies are warranted."
In defense of the drugs, the High Priests of the Statins-For-All cult unanimously agree that while there may be "some slight increased risk" that statins will cause cataracts the risk of cardiovascular disease is of greater importance, thus justifying it's use.
One of the researchers however took a more middle-of-the-road stance. Researcher Mansi explained that all effective medications can be expected to have side effects, saying "It is much better to do your best to lower your own risk of cardiovascular disease (if feasible) by stopping smoking and keeping physically active than to take a pill to lower your risk of heart disease."
Here at The Wellness Club we have a different approach to heart health that does not call for dangerous drugs like statins.
Find out more in our informative pages Lower Cholesterol Naturally, The Truth About Cholesterol Pt.I, The Truth About Cholesterol Pt.II, and Saturated Fats And The Big Fat Lie
References:
Association of Statin Use With Cataracts – A Propensity Score–Matched Analysis. JAMA Ophthalmol. Published online September 19, 2013. doi:10.1001/jamaophthalmol.2013.4575
http://archopht.jamanetwork.com/article.aspx?articleid=1739520
Age-related cataract is associated with type 2 diabetes and statin use. Optom Vis Sci. 2012 Aug;89(8):1165-71. doi: 10.1097/OPX.0b013e3182644cd1.
http://www.ncbi.nlm.nih.gov/pubmed/22797512
Heartwire: Statins Linked to Cataracts in Large, Retrospective Study
http://www.medscape.com/viewarticle/811336
Heartwire: Statins Linked With Development of Cataracts
http://www.medscape.com/viewarticle/769077

Print This Post
Posted in
Cholesterol
|
No Comments »