Print This Post
Written by Wellness Club on May 30, 2013 – 12:44 pm -
Part I of a multi-installment series on cholesterol and the dangers of statin drugs.
By Nurse Mark
It seems so…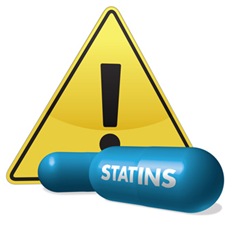 The evidence has become so compelling that statin drugs cause memory and cognition (thinking) problems that even the mighty FDA, sworn protector of the pharmaceutical industry, has been forced to require drug makers to mention the possibility of "Memory loss and confusion" as an adverse effect in the fine print of their drug labels.
Well, whoop-tee-doo!
Who reads all that fine print stuff anyway?!?
But, says the FDA "expert", you mustn't stop taking those statins because the drug companies say they will keep you from having a heart attack, and besides, these episodes of cloudy thinking, loss of memory, and confusion are "rare."
Riiiight… "rare."
So rare that the FDA has been forced to 'fess up and require label warnings…
And, according to the FDA: "The reports about memory loss, forgetfulness and confusion span all statin products and all age groups. Egan [the FDA "expert"] says these experiences are rare but that those affected often report feeling "fuzzy" or unfocused in their thinking."
So fuzzy and unfocussed that some elderly statin users are being mis-diagnosed and treated as having senile dementia or even Alzheimer's ? Maybe even being prescribed drugs based on such a misdiagnosis? Or worse yet, that someone might become so confused that they find themselves forced out of their home and into a "care facility"?
I would hate to think that such a tragic mis-diagnosis could happen, but anecdotal reports of this are becoming more common with each passing day. And if the FDA is forcing drug makers to warn users about this it certainly must be more than "just" anecdotal reports – it must be a real thing.
So, where is the "hard evidence" that statins cause memory or cognition problems? Good Question! In reviewing the medical literature it's almost impossible to find anything – nary a study, an article, a case review – that is critical of statin drugs. Even those articles that report less-than-favorable effects from statin use do so in the most mild, weasel-worded way possible – as if the authors are terrified of incurring the wrath of Big Pharma for criticizing what has become one of the biggest cash cows in modern history.
In fact, you can find citations (medical and scientific articles or references) that actually try to make a case for statins improving mental function in elderly people! Digging a little deeper into those articles usually finds that 1.) the evidence for improvement is weak at best and 2.) either the "study" was funded directly by a drug company or the authors of the study had significant ties to and support from Big Pharma. This tends to make my B.S. warning light flash… (B.S. means Bad Science folks!)
But once away from the "conventional" scientific and medical literature where Big Pharma is in control there are plenty of stories about people becoming confused or losing their memory after starting on statins. There are even carefully researched studies reporting problems that Big Pharma seems all too eager to silence.
Consider Dr. Duane Graveline – a former NASA astronaut and physician. Graveline experienced first-hand the devastating effects of statin drugs when after taking a relatively low dose of a statin drug for a short while he experienced an episode of total global amnesia, losing his memory for several hours. After he recovered from that episode, regaining his memory, his doctors convinced him that he should try the statin drugs once again, claiming that the memory loss couldn't possibly be caused by the drugs. He did, and promptly experienced another episode of amnesia.
Dr. Graveline recovered from that second episode as well and has gone on to research the ill effects of statins, writing books and authoring research papers. For anyone with an interest in the dangers of statins his website – www.SpaceDoc.com – is a "must visit" that offers a wealth of otherwise suppressed information.
And That's Not All, Folks!
In addition to the new warnings about memory loss and confusion that the FDA has been forced to require drug makers to put on their information sheets (the ones that nobody bothers to read anyway…) they have also been forced to admit to some other problems that statins are causing.
Nothing serious mind you, just little things like Type II diabetes, liver failure, muscle damage…
But don't worry says the FDA – these problems are "rare." Never mind that one of the most important muscles in your body and one that's highly susceptible to statin-induced "damage' is your heart… or that you only get one liver, or that Type II diabetes is no laughing matter either…
Those little, "rare" problems are something we'll talk about in upcoming HealthBeat articles…
Additional reading:
FDA Consumer Information: FDA Expands Advice on Statin Risks
http://www.fda.gov/ForConsumers/ConsumerUpdates/ucm293330.htm
FDA Drug Safety Communication: Important safety label changes to cholesterol-lowering statin drugs
http://www.fda.gov/Drugs/DrugSafety/ucm293101.htm
Dangers of Statin Drugs: What You Haven't Been Told About Popular Cholesterol-Lowering Medicines
Sally Fallon and Mary G. Enig, PhD
http://www.westonaprice.org/cardiovascular-disease/dangers-of-statin-drugs
Padala KP, Padala PR, Potter JF.Ann Pharmacother. 2006 Oct;40(10):1880-3. Epub 2006 Aug 29. Simvastatin-induced decline in cognition. http://www.ncbi.nlm.nih.gov/pubmed/16940411
CASE SUMMARY:
A 64-year-old man developed cognitive difficulties within one week after starting simvastatin 40 mg/day. There was a 3 point decline from baseline in the Mini-Mental State Exam (MMSE) score 2 weeks after simvastatin was initiated, as well as declines in the Activities of Daily Living and Instrumental Activities of Daily Living scales. Simvastatin was discontinued, and the patient's cognition improved to baseline within 6 weeks. Rechallenge with simvastatin at half the original dose was attempted. His cognition deteriorated over a 2 week period. Simvastatin was stopped, and the patient's MMSE scores returned to baseline within 4 weeks.
CONCLUSIONS:
Statins are commonly used in the older population. Simvastatin appeared to be associated with worsened cognition in our patient, an older person with preexisting memory problems. Statins should be used with caution in this vulnerable population.
Orsi A, Sherman O, Woldeselassie Z. Pharmacotherapy. 2001 Jun;21(6):767-9. Simvastatin-associated memory loss. http://www.ncbi.nlm.nih.gov/pubmed/11401190
Abstract
The statins are widely used to treat dyslipidemias. They are generally associated with mild adverse effects, but rarely, more serious reactions may occur. A 51-year-old man experienced delayed-onset, progressive memory loss while receiving simvastatin for hypercholesterolemia. His therapy was switched to pravastatin, and memory loss resolved gradually over the next month, with no recurrence of the adverse effect.
Benito-León J, Louis ED, Vega S, Bermejo-Pareja F. J Alzheimers Dis. 2010;21(1):95-102. doi: 10.3233/JAD-2010-100180.
Statins and cognitive functioning in the elderly: a population-based study. http://www.ncbi.nlm.nih.gov/pubmed/20413854
Source
The Department of Neurology, University Hospital 12 de Octubre, Madrid, Spain.
In this population-based sample, elderly participants treated with statins and untreated controls performed similarly in all tested cognitive areas. These results do not support a positive benefit of statins on cognition.
Galatti L, Polimeni G, Salvo F, Romani M, Sessa A, Spina E. Pharmacotherapy. 2006 Aug;26(8):1190-2. Short-term memory loss associated with rosuvastatin. http://www.ncbi.nlm.nih.gov/pubmed/16863497
Abstract
Memory loss and cognitive impairment have been reported in the literature in association with several 3-hydroxy-3-methylglutaryl coenzyme A reductase inhibitors (statins), but we found no published case reports associated with rosuvastatin. To our knowledge, this is the first reported case of rosuvastatin-related short-term memory loss. A 53-year-old Caucasian man with hypercholesterolemia experienced memory loss after being treated with rosuvastatin 10 mg/day. He had no other concomitant conditions or drug therapies. After discontinuation of rosuvastatin, the neuropsychiatric adverse reaction resolved gradually, suggesting a probable drug association. During the following year, the patient remained free from neuropsychiatric disturbances. Clinicians should be aware of possible adverse cognitive reactions during statin therapy, including rosuvastatin.
http://www.scientificamerican.com/article.cfm?id=its-not-dementia-its-your-heart-medication
Newsmagazine Scientific American
It's Not Dementia, It's Your Heart Medication: Cholesterol Drugs and Memory
One day in 1999 Duane Graveline, then a 68-year-old former NASA astronaut, returned home from his morning walk in Merritt Island, Fla., and could not remember where he was. His wife stepped outside, and he greeted her as a stranger. When Graveline's memory returned some six hours later in the hospital, he racked his brain to figure out what might have caused this terrifying bout of amnesia. Only one thing came to mind: he had recently started taking the statin drug Lipitor.
http://www.spacedoc.com/662_cases_memory_loss
Duane Graveline MD MPH, Jay S. Cohen MD. ATORVASTATIN-ASSOCIATED MEMORY LOSS: ANALYSIS OF 662 CASES OF COGNITIVE DAMAGE REPORTED TO MEDWATCH
In 2001, King and colleagues described 2 patients who presented with cognitive impairment (2, 3). The first patient was a 67 year old Caucasian woman with hypertension, dyslipidemia, hypothyroidism and diabetes, who presented with changes in behavioral characterized by mood alterations, lack of interest in routine activities, diminished short term memory (demonstrated on mental status examination), and social impairment. Two months prior to this visit, atorvastatin 10 mg/day was increased to 20 mg/day. The patient had been previously controlled on atorvastatin 10 mg/day without experiencing any adverse events for one year. Atorvastatin was discontinued, but no changes were made to her other concurrent medications, which included levothyroxine, hormone replacement therapy, glyburide and metoprolol. After discontinuation of atorvastatin, the patient reported dramatic improvement in mood, memory and motivation. Repeat mental status examination also demonstrated marked improvement in short term memory. AT 6 months post discontinuation, the patient had experienced no additional impairment.
The second patient (3) was a 68 year old Caucasian woman with hypertension who was being treated long term with lisinopril, estradiol and atenolol. Her initial evaluation revealed uncontrolled hypertension, hyperlipedemia and an intact memory and judgment and insight. As a result, hydroclothiazide and atorvastatin 10 mg/day were added to her current drug regimen. Approximately 9 months after this initial visit, the patient's daughter reported noticeable memory impairment, cognitive decline and behavioral changes. The patient was forgetting scheduled routine social events and appointments and neglecting her longstanding exercise program. The patient discontinued atorvastatin on her own, and cognitive improvement was reported in 1 week.
One month after resolution of symptoms, the patient was re challenged with atorvastatin; the cognitive impairment returned three weeks later. Atorvastatin was a again discontinued and 1 month later the patient reported improvement in memory. Mental status examination demonstrated a return to baseline. Simvastatin 20 mg/day was initiated and, 7 weeks the patient and her daughter reported a return of the memory impairment and cognitive decline. Three weeks after discontinuing simvastatin, these symptoms resolved.
CONCLUSION
1) The 662 Medwatch cases of atorvastatin-associated cognitive impairment suggests a causal linkage between the drug and the reported events. Random analysis of the Medwatch reports demonstrated a high frequency of cases that were definite or probable, thereby adding weight to the possibility of a causal connection between atorvastatin and cognitive impairments.
2) Accepted reporting rates to Medwatch of drug-related adverse events is 2.5 to 5%. Golomb et al. suggest it may be even lower with statin-associated adverse events. If 2.5% of atorvastatin-associated cognitive impairments are reported to Medwatch, then our 662 cases become 26,480 from 1997 through 2006. If 1% of cases are reported to Medwatch, then 66,200 cases of atorvastatin-associated cognitive impairments may have occurred.
3) Statin impairment of glial cell synthesis of cholesterol is most likely mechanism but others must be considered.
4) There is reasonable research evidence that 100% of statin users suffer some cognitive deficit that is not evident to them.

Print This Post
Posted in
Cholesterol
,
Drugs and Alternatives
,
Heart and Circulation
|
No Comments »