Print This Post
Written by Wellness Club on June 8, 2013 – 1:03 pm -
Part VI of a multi-installment series on cholesterol and the dangers of statin drugs.
By Nurse Mark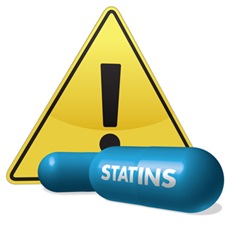 The news for statins just keeps getting worse and worse. First it was rhabdomyelosis, a condition that causes muscles to break down – literally melt - and can lead to kidney damage. Then there is liver damage, sometimes severe enough to require liver transplant, and memory loss and confusion, and type II diabetes…
Now researchers have found that compared to those people not using statin drugs, statin users were 19 percent more likely to have musculoskeletal problems of all kinds, and 13 percent more likely to suffer from dislocations, strains or sprains.
What's even more alarming is that the researcher indicates that people who are physically active are especially at risk!
And this was not a rat study or small, limited study – no, this study compared nearly 7000 non-statin users with the same number of statin users. In an article published Published online June 3, 2013 in the Journal of the American Medical Association, Dr. Ishak Mansi describes his study of nearly 14,000 U.S. active-duty soldiers and veterans, and confirmed an association between the use of statins and musculoskeletal injuries.
Conclusions and Relevance: Musculoskeletal conditions, arthropathies, injuries, and pain are more common among statin users than among similar nonusers. The full spectrum of statins' musculoskeletal adverse events may not be fully explored, and further studies are warranted, especially in physically active individuals.
Predictably the American heart association is quick to say "Don't even think of not taking statins…"
In an article in the government's National Institutes of Health MedlinePlus news website that discussed this study, Dr. Gregg Fonarow, a spokesman for the American Heart Association, did his best to put a positive spin on the findings saying that statin users should be "reassured" by the findings.
"This study provides further evidence that the proven cardiovascular benefits outweigh any potential risks, including musculoskeletal issues,"
So, according to Dr. Fonarow, it's "don't worry, be happy" when it comes to the damaging side effects of statins.
Interestingly, Dr. Fonarow has received funding from Pfizer, Merck, Schering Plough, Bristol-Myers Squibb, and Sanofi-Aventis – all of whom depend heavily on the continued sales of statin drugs to maintain their obscene profits… Do you think there could there be even the tiniest hint of a conflict of interest there? No, I didn't think so either…
Yep, I'm reassured all right – reassured that I never, ever want to take this dangerous, damaging drug!
Muscle damage, kidney damage, liver damage, memory loss and confusion, type II diabetes, and increased risk for musculo-skeletal injuries – all that in exchange for depleting your body of cholesterol, a substance essential for health and life?
There are better options!
Further Reading:
Lower Your Cholesterol – Lose Your Marbles?
Trade Your High Cholesterol For Diabetes!
New Research Into Statin Drug Memory Loss
Cholesterol: Life-Giving Or Life-Threatening?
Saturated Fats Are NOT Bad For You – Here's PROOF
References:
JAMA study publication: Statins and Musculoskeletal Conditions, Arthropathies, and Injuries
JAMA Intern Med. 2013
http://archinte.jamanetwork.com/article.aspx?articleid=1691918
MedlinePlus article:
Cholesterol Drugs Linked to Muscle, Joint Problems: Study
But heart benefits of statins outweigh risks, expert says
Monday, June 3, 2013
http://www.nlm.nih.gov/medlineplus/news/fullstory_137444.html
Dr Fonarow financial ties: http://www.medscape.com/viewarticle/737248

Print This Post
Posted in
Cholesterol
,
Heart and Circulation
|
No Comments »