Print This Post
Written by Wellness Club on June 23, 2009 – 2:15 pm -
Help Us Celebrate!
Nurse Mark Takes Oath of US Citizenship (Yeah!)
Have a FREE American Flag on US (all puns intended…)
Mark Ziemann, R.N., of Snowflake, Arizona, took the oath of United States Citizenship on Friday June 19th, 2009.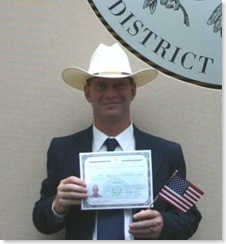 Mr. Ziemann, known to his patients as "Nurse Mark," has lived in the United States since 2001. He originally came here from his birthplace of Canada on a trade NAFTA visa to serve as a nurse at the Gila Bend Power Plant during its construction.
During this time he met, fell in love with and married Snowflake resident Dr. Dana Myatt. Nurse Mark has resided in Snowflake since their marriage in 2003 and together they own and operate Dr. Myatt's Wellness Club, a nationwide nutritional and herbal supplement company and holistic health consultation service.
"Six grueling years of jumping through flaming hoops" is how Dr. Myatt describes their US naturalization process. But in the end, both agree that the privilege of United  States citizenship was well worth the effort.
At the ceremony, which took place at the Sandra Day O'Connor Federal Courthouse in Phoenix, Mr. Ziemann was asked to offer his thoughts to fellow immigrants. He told the group:
"Your Honor, ladies and gentlemen and my fellow American citizens—

This is for me, as it is for you, the proud culmination of a long journey. You and I are now a part of 'We The People'!

The United States gives us many right and freedoms unknown in other places in the world, but Citizenship also carries responsibilities. I gladly accept these responsibilities, as do you. I look forward to serving my new country in any way I can.

I ask that we remember the words of President John Fitzgerald Kennedy – words that I  remember hearing as a child -  'Ask not what your Country can do for you. Ask what you can do for your County.'

I look forward to working, serving, voting and caring with every one of you as we move forward together in our new role as United States Citizens.

Together, we will help keep The United states of America strong and free. Thank you."
Dr. Myatt notes that "Nurse Mark is more an American patriot in his heart and mind than many who were born here. He understands the elegance of the US Constitution and the government it outlines. It was a good call on the part of the US government to approve his citizenship."
"Despite the challenges the US currently faces, we both still believe that this is the best country on earth to be living in. I am thrilled that my husband can now share in the American democratic process with me." God Bless America!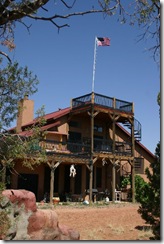 Have a US Flag on US!
(How to Claim Your Gift)
Share our joy by letting us send you a 3' x 5 , weather-resistant American flag that we hope you'll fly proudly just as we do!
On any order of any size placed by July 31, 2009, simply say "Congratulations Nurse Mark" or any such greeting in the comments section of your order form OR mention this if you call on the phone and we'll send your flag with your order.
The US flag flies daily at the Myatt-Ziemann home

Print This Post
Posted in
Opinion
,
Uncategorized
|
No Comments »