Print This Post
Written by Wellness Club on September 14, 2009 – 2:11 pm -
HealthBeat News is pleased to bring you Part 3 of this special report on statin drugs and cholesterol that comes to us by special arrangement and kind permission of the authors, Sally Fallon and Mary Enig, PhD.
In Part 1 we looked at the "problem" of hypercholesterolemia (high cholesterol), how statins work, and just what cholesterol is and why our bodies need this controversial substance. In this part, Part 2 we looked at the statin drugs and learned of some of their many side-effects. In this final installment, Part 3, we will review a large number of scholarly studies on cholesterol and statins that the drug companies would rather you don't know about as they plainly demonstrate the dangers of these drugs and of our wrong-headed obsession with reducing cholesterol levels to un-natural and un-healthy levels.
Finally, at the end of this part of the 3-part series, we'll introduce you to the authors and their achievements.
You, our HealthBeat News readers, have received all three parts of this series before anyone else. We will now post it along with the full list of references on our Wellness Club website – but HealthBeat News subscribers have had access to this important and informative article first!
Dangers of Statin Drugs: What You Haven't Been Told About Popular Cholesterol-Lowering Medicines
By Sally Fallon and Mary G. Enig, PhD
Part 3 in a 3-Part series.
Any Benefits?
Most doctors are convinced–and seek to convince their patients–that the benefits of statin drugs far outweigh the side effects. They can cite a number of studies in which statin use has lowered the number of coronary deaths compared to controls. But as Dr. Ravnskov has pointed out in his book The Cholesterol Myths,31 the results of the major studies up to the year 2000–the 4S, WOSCOPS, CARE, AFCAPS and LIPID studies–generally showed only small differences and these differences were often statistically insignificant and independent of the amount of cholesterol lowering achieved. In two studies, EXCEL, and FACAPT/TexCAPS, more deaths occurred in the treatment group compared to controls. Dr. Ravnskov's 1992 meta-analysis of 26 controlled cholesterol-lowering trials found an equal number of cardiovascular deaths in the treatment and control groups and a greater number of total deaths in the treatment groups.32 An analysis of all the big controlled trials reported before 2000 found that long-term use of statins for primary prevention of heart disase produced a 1 percent greater risk of death over 10 years compared to a placebo.33
Recently published studies do not provide any more justification for the current campaign to put as many people as possible on statin drugs.
A Better Way
If statins work, they do so by reducing inflammation, not because they lower cholesterol. Statins block the production of mevalonate leading to inhibition of platelet clumping and reduction of inflammation in the artery walls. However, simple changes in the diet can achieve the same effect without also cutting off the body's vital supply of cholesterol:
Avoid trans fats, known to contribute to inflammation

Avoid refined sugars, especially fructose, known to stimulate clumping of the blood platelets

Take cod liver oil, an excellent dietary source of anti-inflammatory vitamin A, vitamin D and EPA

Eat plenty of saturated fats, which encourage the production of anti-inflammatory prostaglandins

Take evening primrose, borage or black currant oil, sources of GLA which the body uses to make anti-inflammatory prostaglandins

Eat foods high in copper, especially liver; copper deficiency is associatied with clot formation and inflammation in the arteries

Eat coconut oil and coconut products; coconut oil protects against bacteria and viruses that can lead to inflammation in the artery wall

Avoid reduced-fat milks and powdered milk products (such as powdered whey); they contain oxidized cholesterol, shown to cause irritation of the artery wall
Honolulu Heart Program (2001)
This report, part of an ongoing study, looked at cholesterol lowering in the elderly. Researchers compared changes in cholesterol concentrations over 20 years with all-cause mortality.34 To quote: "Our data accords with previous findings of increased mortality in elderly people with low serum cholesterol, and show that long-term persistence of low cholesterol concentration actually increases risk of death. Thus, the earlier that patients start to have lower cholesterol concentrations, the greater the risk of death. . . The most striking findings were related to changes in cholesterol between examination three (1971-74) and examination four (1991-93). There are few studies that have cholesterol concentrations from the same patients at both middle age and old age. Although our results lend support to previous findings that low serum cholesterol imparts a poor outlook when compared with higher concentrations of cholesterol in elderly people, our data also suggest that those individuals with a low serum cholesterol maintained over a 20-year period will have the worst outlook for all-cause mortality [emphasis ours]."
MIRACL (2001)
The MIRACL study looked at the effects of a high dose of Lipitor on 3086 patients in the hospital after angina or nonfatal MI and followed them for 16 weeks.35 According to the abstract: "For patients with acute coronary syndrome, lipid-lowering therapy with atorvastatin, 80 mg/day, reduced recurrent ischemic events in the first 16 weeks, mostly recurrent symptomatic ischemia requiring rehospitalization." What the abstract did not mention was that there was no change in death rate compared to controls and no significant change in re-infarction rate or need for resuscitation from cardiac arrest. The only change was a significant drop in chest pain requiring rehospitalization.
ALLHAT (2002)
ALLHAT (Antihypertensive and Lipid-Lowering Treatment to Prevent Heart Attack Trial), the largest North American cholesterol-lowering trial ever and the largest trial in the world using Lipitor, showed mortality of the treatment group and controls after 3 or 6 years was identical.36 Researchers used data from more than 10,000 participants and followed them over a period of four years, comparing the use of a statin drug to "usual care," namely maintaining proper body weight, no smoking, regular exercise, etc., in treating subjects with moderately high levels of LDL cholesterol. Of the 5170 subjects in the group that received statin drugs, 28 percent lowered their LDL cholesterol significantly. And of the 5185 usual-care subjects, about 11 percent had a similar drop in LDL. But both groups showed the same rates of death, heart attack and heart disease.
Heart Protection Study (2002)
Carried out at Oxford University,37 this study received widespread press coverage; researchers claimed "massive benefits" from cholesterol-lowering,38 leading one commentator to predict that statin drugs were "the new aspirin."39 But as Dr. Ravnskov points out,40 the benefits were far from massive. Those who took simvastatin had an 87.1 percent survival rate after five years compared to an 85.4 percent survival rate for the controls and these results were independent of the amount of cholesterol lowering. The authors of the Heart Protection Study never published cumulative mortality data, even though they received many requests to do so and even though they received funding and carried out a study to look at cumulative data. According to the authors, providing year-by-year mortality data would be an "inappropriate" way of publishing their study results.41
PROSPER (2002)
PROSPER (Prospective Study of Pravastatin in the Elderly at Risk) studied the effect of pravastatin compared to placebo in two older populations of patients of which 56 percent were primary prevention cases (no past or symptomatic cardiovascular disease) and 44 percent were secondary prevention cases (past or symptomatic cardiovascular disease).42 Pravastatin did not reduce total myocardial infarction or total stroke in the primary prevention population but did so in the secondary. However, measures of overall health impact in the combined populations, total mortality and total serious adverse events were unchanged by pravastatin as compared to the placebo and those in the treatment group had increased cancer. In other words: not one life saved.
J-LIT (2002)
Japanese Lipid Intervention Trial was a 6-year study of 47,294 patients treated with the same dose of simvastatin.43 Patients were grouped by the amount of cholesterol lowering. Some patient had no reduction in LDL levels, some had a moderate fall in LDL and some had very large LDL reductions. The results: no correlation between the amount of LDL lowering and death rate at five years. Those with LDL cholesterol lower than 80 had a death rate of just over 3.5 at five years; those whose LDL was over 200 had a death rate of just over 3.5 at five years.
Meta-Analysis (2003)
In a meta-analysis of 44 trials involving almost 10,000 patients, the death rate was identical at 1 percent of patients in each of the three groups–those taking atorvastatin (Lipitor), those taking other statins and those taking nothing.44 Furthermore, 65 percent of those on treatment versus 45 percent of the controls experienced an adverse event. Researchers claimed that the incidence of adverse effects was the same in all three groups, but 3 percent of the atorvastatin-treated patients and 4 percent of those receiving other statins withdrew due to treatment-associated adverse events, compared with 1 percent of patients on the placebo.
Statins and Plaque (2003)
A study published in the American Journal of Cardiology casts serious doubts on the commonly held belief that lowering your LDL-cholesterol, the so-called bad cholesterol, is the most effective way to reduced arterial plaque.45 Researchers at Beth Israel Medical Center in New York City examined the coronary plaque buildup in 182 subjects who took statin drugs to lower cholesterol levels. One group of subjects used the drug aggressively (more than 80 mg per day) while the balance of the subjects took less than 80 mg per day. Using electron beam tomography, the researchers measured plaque in all of the subjects before and after a study period of more than one year. The subjects were generally successful in lowering their cholesterol, but in the end there was no statistical difference in the two groups in the progression of arterial calcified plaque. On average, subjects in both groups showed a 9.2 percent increase in plaque buildup.
Statins and Women (2003)
No study has shown a significant reduction in mortality in women treated with statins. The University of British Columbia Therapeutics Initiative came to the same conclusion, with the finding that statins offer no benefit to women for prevention of heart disease.46 Yet in February of 2004, Circulation published an article in which more than 20 organizations endorsed cardiovascular disease prevention guidelines for women with several mentions of "preferably a statin."47
ASCOT-LLA (2003)
ASCOT-LLA (Anglo-Scandinavian Cardiac Outcomes Trial–Lipid Lowering Arm) was designed to assess the benefits of atorvastatin (Lipitor) versus a placebo in patients who had high blood pressure with average or lower-than-average cholesterol concentrations and at least three other cardiovascular risk factors.48 The trial was originally planned for five years but was stopped after a median follow-up of 3.3 years because of a significant reduction in cardiac events. Lipitor did reduce total myocardial infarction and total stroke; however, total mortality was not significantly reduced. In fact, women were worse off with treatment. The trial report stated that total serious adverse events "did not differ between patients assigned atorvastatin or placebo," but did not supply the actual numbers of serious events.
Cholesterol Levels in Dialysis Patients (2004)
In a study of dialysis patients, those with higher cholesterol levels had lower mortality than those with low cholesterol.49 Yet the authors claimed that the "inverse association of total cholesterol level with mortality in dialysis patients is likely due to the cholesterol-lowering effect of systemic inflammation and malnutrition, not to a protective effect of high cholesterol concentrations." Keeping an eye on further funding opportunities, the authors concluded: "These findings support treatment of hypercholesterolemia in this population."
PROVE-IT (2004)
PROVE-IT (PRavastatin Or AtorVastatin Evaluation and Infection Study),50 led by researchers at Harvard University Medical School, attracted immense media attention. "Study of Two Cholesterol Drugs Finds One Halts Heart Disease," was the headline in the New York Times.51 In an editorial entitled "Extra-Low Cholesterol," the paper predicted that "The findings could certainly presage a significant change in the way heart disease patients are treated. It should also start a careful evaluation of whether normally healthy people could benefit from a sharp drug-induced reduction in their cholesterol levels."52
The Washington Post was even more effusive, with a headline "Striking Benefits Found in Ultra-Low Cholesterol."53 "Heart patients who achieved ultra-low cholesterol levels in one study were 16 percent less likely to get sicker or to die than those who hit what are usually considered optimal levels. The findings should prompt doctors to give much higher doses of drugs known as statins to hundreds of thousands of patients who already have severe heart problems, experts said. In addition, it will probably encourage physicians to start giving the medications to millions of healthy people who are not yet on them, and to boost dosages for some of those already taking them to lower their cholesterol even more, they said."
The study compared two statin drugs, Lipitor and Pravachol. Although Bristol Myers-Squibb (BMS), makers of Pravachol, sponsored the study, Lipitor (made by Pfizer) outperformed its rival Pravachol in lowering LDL. The "striking benefit" was a 22 percent rate of death or further adverse coronary events in the Lipitor patients compared to 26 percent in the Pravachol patients.
PROVE-IT investigators took 4162 patient who had been in the hospital following an MI or unstable angina. Half got Pravachol and half got Lipitor. Those taking Lipitor had the greatest reduction of LDL-cholesterol–LDL in the Pravachol group was 95, in the Lipitor group it was 62–a 32 percent greater reduction in LDL levels and a 16 percent reduction in all-cause mortality. But that 16 percent was a reduction in relative risk. As pointed out by Red Flags Daily columnist Dr. Malcolm Kendrick, the absolute reduction in the rate of the death rate of those taking Lipitor rather than Pravachol, was one percent, a decrease from 3.2 percent to 2.2 percent over 2 years.54 Or, to put it another way, a 0.5 percent absolute risk reduction per year–these were the figures that launched the massive campaign for cholesterol-lowering in people with no risk factors for heart disease, not even high cholesterol.
And the study was seriously flawed with what Kendrick calls "the two-variables conundrum." "It is true that those with the greatest LDL lowering were protected against death. However, . . . those who were protected not only had a greater degree of LDL lowering, they were also on a different drug! which is rather important, yet seems to have been swept aside on a wave of hype. If you really want to prove that the more you lower the LDL level, the greater the protection, then you must use the same drug. This achieves the absolutely critical requirement of any scientific experiment, which is to remove all possible uncontrolled variables. . . As this study presently stands, because they used different drugs, anyone can make the case that the benefits seen in the patients on atorvastatin [Lipitor] had nothing to do with greater LDL lowering; they were purely due to the direct drug effects of atorvastatin." Kendrick notes that the carefully constructed J-LIT study, published 2 years earlier, found no correlation whatsoever between the amount of LDL lowering and death rate. This study had ten times as many patients, lasted almost three times as long and used the same drug at the same dose in all patients. Not surprisingly, J-LIT attracted virtually no media attention.
PROVE-IT did not look at side effects but Dr. Andrew G. Bodnar, senior vice president for strategy and medical and external affairs at Bristol Meyer Squibb, makers of the losing statin, indicated that liver enzymes were elevated in 3.3 percent of the Lipitor group but only in 1.1 percent of the Pravachol group, noting that when liver enzyme levels rise, patients must be advised to stop taking the drug or reduce the dose.55 And withdrawal rates were very high: thirty-three percent of patients discontinued Pravachol and 30 percent discontinued Lipitor after two years due to adverse events or other reasons.56
REVERSAL (2004)
In a similar study, carried out at the Cleveland Clinic, patients were given either Lipitor or Pravachol. Those receiving Lipitor achieved much lower LDL-cholesterol levels and a reversal in "the progression of coronary plaque aggregation."57 Those who took Lipitor had plaque reduced by 0.4 percent over 18 months, based on intravascular ultrasound (not the more accurate tool of electron beam tomography); Dr. Eric Topol of the Cleveland Clinic claimed these decidedly unspectacular results "Herald a shake-up in the field of cardiovascular prevention.. . . the implications of this turning point–that is, of the new era of intensive statin therapy–are profound. Even today, only a fraction of the patients who should be treated with a statin are actually receiving such therapy. . . More than 200 million people worldwide meet the criteria for treatment, but fewer than 25 million take statins."58 Not surprisingly, an article in The Wall Street Journal noted "Lipitor Prescriptions Surge in Wake of Big Study."59
But as Dr. Ravnskov points out, the investigators looked at change in atheroma volume, not the change in lumen area, "a more important parameter because it determines the amount of blood that can be delivered to the myocardium. Change of atheroma volume cannot be translated to clinical events because adaptive mechansims try to maintain a normal lumen area during early atherogenesis."60
Other Uses
With such paltry evidence of benefit, statin drugs hardly merit the hyperbole heaped upon them. Yet the industry maintains a full court press, urging their use for greater and greater numbers of people, not only for cholesterol lowering but also as treatment for other diseases–cancer, multiple sclerosis, osteoporosis, stroke, macular degeneration, arthritis and even mental disorders such as memory and learning problems, Alzheimers and dementia.61 New guidelines published by the American College of Physicians call for statin use by all people with diabetes older than 55 and for younger diabetes patients who have any other risk factor for heart disease, such as high blood pressure or a history of smoking.62 David A. Drachman, professor of neurology at the University of Massachusetts Medical School calls statins "Viagra for the brain."63 Other medical writers have heralded the polypill, composed of a statin drug mixed with a blood pressure medication, aspirin and niacin, as a prevent-all that everyone can take. The industry is also seeking the right to sell statins over the counter.
Can honest assessment find any possible use for these dangerous drugs? Dr. Peter Langsjoen of Tyler, Texas, suggests that statin drugs are appropriate only as a treatment for cases of advanced Cholesterol Neurosis, created by the industry's anti-cholesterol propaganda. If you are concerned about your cholesterol, a statin drug will relieve you of your worries.
Late-Breaking Cholesterol News
Researchers at the Tulane University School of Medicine used electron beam tomography (EBT) to measure the progression of plaque buildup in heart-attack patients taking statin drugs. EBT is a very accurate way to measure occlusion from calcium in the arteries. Contrary to expectations, the researchers discovered that the progression of coronary artery calcium (CAC) was significantly greater in patients receiving statins compared with event-free subjects despite similar levels of LDL-lowering. Said the researchers: "Continued expansion of CAC may indicate failure of some patients to benefit from statin therapy and an increased risk of having cardiovascular events (Arterioscler Thromb Vasc Biol, April 1, 2004).
Doctors have discovered that injections of a certain substance can reverse heart disease in some patients. The therapy has helped reduce the amount of plaque in the arteries, thereby negating the need for angioplasty and open heart surgery. That substance is HDL-cholesterol (www.ivanhoe.com/newsalert, March 1, 2004).
The Melbourne Women's Midlife Health Project measured cholesterol levels annually in a group of 326 women aged 52-63 years. During the eighth annual visit, subjects took a test that assessed memory. They found that higher serum concentrations of LDL-cholesterol and relatively recent increases in total cholesterol and LDL-cholesterol were associated with better memory in healthy middle-aged women (J Neurol Neurosurg Psychiatry 2003;74:1530-1535.)
Creative Advertising
The best advertising for statin drugs is free front-page coverage following gushy press releases. But not everyone reads the paper or goes in for regular medical exams, so statin manufacturers pay big money for creative ways to create new users. For example, a new health awareness group called the Boomer Coalition supported ABC's Academy Awards telecast in March of 2004 with a 30-second spot flashing nostalgic images of celebrities lost to cardiovascular disease–actor James Coburn, baseball star Don Drysdale and comedian Redd Foxx. While the Boomer Coalition sounds like a grass roots group of health activists, it is actually a creation of Pfizer, manufacturers of Lipitor. "We're always looking for creative ways to break through what we've found to be a lack of awareness and action," says Michal Fishman, a Pfizer spokeswoman. "We're always looking for what people really think and what's going to make people take action," adding that there is a stigma about seeking treatment and many people "wrongly assume that if they are physically fit, they aren't at risk for heart disease."64 The Boomer Coalition website allows visitors to "sign up and take responsibility for your heart health," by providing a user name, age, email address and blood pressure and cholesterol level.
A television ad in Canada admonished viewers to "Ask your doctor about the Heart Protection Study from Oxford University." The ad did not urge viewers to ask their doctors about EXCEL, ALLHAT, ASCOT, MIRACL or PROSPER, studies that showed no benefit–and the potential for great harm–from taking statin drugs.
The Costs
Statin drugs are very expensive–a course of statins for a year costs between $900 and $1400. They constitute the mostly widely sold pharmaceutical drug, accounting for 6.5 percent of market share and 12.5 billion dollars in revenue for the industry. Your insurance company may pay most of that cost, but consumers always ultimately pay with higher insurance premiums. Payment for statin drugs poses a huge burden for Medicare, so much so that funds may not be available for truly lifesaving medical measures.
In the UK, according to the National Health Service, doctors wrote 31 million prescriptions for statins in 2003, up from 1 million in 1995 at a cost of 7 billion pounds–and that's just in one tiny island.65 In the US, statins currently bring in $12.5 billion annually for the pharmaceutical industry. Sales of Lipitor, the number-one-selling statin, are projected to hit $10 billion in 2005.
Even if statin drugs do provide some benefit, the cost is very high. In the WOSCOP clinical trial where healthy people with high cholesterol were treated with statins, the five-year death rate for treated subjects was reduced by a mere 0.6 percent. As Dr. Ravnskov points out,66 to achieve that slight reduction about 165 healthy people had to be treated for five years to extend one life by five years. The cost for that one life comes to $1.2 million dollars. In the most optimistic calculations, the costs to save one year of life in patients with CHD is estimated at $10,000, and much more for healthy individuals. "This may not sound unreasonable," says Dr. Ravnskov. "Isn't a human life worth $10,000 or more?"
"The implication of such reasoning is that to add as many years as possible, more than half of mankind should take statin drugs every day from an early age to the end of life. It is easy to calculate that the costs for such treatment would consume most of any government's health budget. And if money is spent to give statin treatment to all healthy people, what will remain for the care of those who really need it? Shouldn't health care be given primarily to the sick and the crippled?"

Read the Fine Print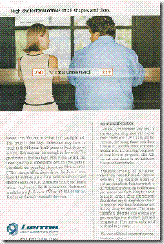 The picture in a recent ad for Lipitor implies that cholesterol-lowering is for everyone, even slim young women. However, in the fine print we learn that Lipitor "has not been shown to prevent heart disease or heart attacks"! If the makers of Lipitor need to provide this disclaimer, after millions of dollars invested in studies, why should anyone risk side effects by taking their drug?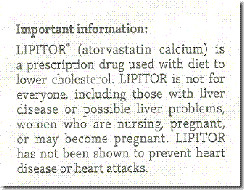 To View this full article, including the extensive list of references please follow this link to the Wellness Club website.
About the Authors

Mary G. Enig, PhD is an expert of international renown in the field of lipid biochemistry. She has headed a number of studies on the content and effects of trans fatty acids in America and Israel, and has successfully challenged government assertions that dietary animal fat causes cancer and heart disease. Recent scientific and media attention on the possible adverse health effects of trans fatty acids has brought increased attention to her work. She is a licensed nutritionist, certified by the Certification Board for Nutrition Specialists, a qualified expert witness, nutrition consultant to individuals, industry and state and federal governments, contributing editor to a number of scientific publications, Fellow of the American College of Nutrition and President of the Maryland Nutritionists Association. She is the author of over 60 technical papers and presentations, as well as a popular lecturer. Dr. Enig is currently working on the exploratory development of an adjunct therapy for AIDS using complete medium chain saturated fatty acids from whole foods. She is Vice-President of the Weston A Price Foundation and Scientific Editor of Wise Traditions as well as the author of Know Your Fats: The Complete Primer for Understanding the Nutrition of Fats, Oils, and Cholesterol, Bethesda Press, May 2000. She is the mother of three healthy children brought up on whole foods including butter, cream, eggs and meat.

Sally Fallon is the author of Nourishing Traditions: The Cookbook that Challenges Politically Correct Nutrition and the Diet Dictocrats (with Mary G. Enig, PhD), a well-researched, thought-provoking guide to traditional foods with a startling message: Animal fats and cholesterol are not villains but vital factors in the diet, necessary for normal growth, proper function of the brain and nervous system, protection from disease and optimum energy levels. She joined forces with Enig again to write Eat Fat, Lose Fat, and has authored numerous articles on the subject of diet and health. The President of the Weston A. Price Foundation and founder of A Campaign for Real Milk, Sally is also a journalist, chef, nutrition researcher, homemaker, and community activist. Her four healthy children were raised on whole foods including butter, cream, eggs and meat.

Print This Post
Posted in
Drugs and Alternatives
,
Heart and Circulation
,
Nutrition and Health
|
No Comments »