Print This Post
Written by Wellness Club on March 25, 2011 – 10:07 pm -
Radiation Fears Not Subsiding – Despite Gov't Assurances
A HealthBeat News Update By Nurse Mark
Recent headlines tell the tale:

Japan encourages voluntary evacuations near stricken nuclear plant
Japan reactor core may be leaking radioactive material, official says
Radiation fears mount again in Japan after plant workers hurt
These are just three of the many headlines from this mornings news feeds. Then there is this marvellous headline:
China Bans Some Food Imports From Japan
China – of all places – the country that brings us melamine and lead and who-knows-what-else – has decided that there is enough risk that it will ban some Japanese imports.
Yesterdays headlines gave us more local warnings:
More U.S. States See Radiation From Japan – with the western states of Oregon and California joining other states in reporting that radioactive particles have been detected by their scientists.
But then we have the reassuring words of Marvin Fertel who is the president and CEO of the Nuclear Energy Institute, which is a policy organization for the nuclear energy industry: U.S. nuclear plants safe and will apply lessons from Japan crisis.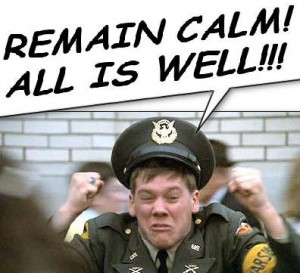 His words strike me as reminiscent of the panic-stricken cries of the character Chip Diller in the 1978 comedy Animal House: "Remain Calm! All Is Well!" he screamed, as the crowd rampaged around him.
I have no doubt that the US Nuclear industry is doing everything it can to ensure that nothing untoward happens to any of it's profit-making machinery – after all, that is just good business. But there is a risk-versus-profit equation that must be adhered to, and funds for safety systems, maintenance, and security are not unlimited.
Here is what Dr. Myatt had to say several days ago to one of our readers who asked:
Do you really think we will be in danger here? Peg
Dr. Myatt's reply:
Hi Peg:

Danger from Japan? Possible but unlikely.

From one of our own reactors — for the same reason Japan is in trouble — far more likely.

Palo Verde power plant is close enough to Queen Valley [the place in Arizona where Peg lives] to pose a threat in the event of a breach.

Iodine pills (which last indefinitely): $30-$50
Safety from nuclear disaster: priceless

Iodine is also useful in case of serious respiratory or other infection.

It can also be used to purify water in case of contamination in your water supply.

Do I think you should have a bottle on hand? You betcha!

In Health,
Dr. Myatt
In our last newsletter we mentioned that we had been able to secure some of the last remaining supplies of potassium iodide (Iodoral) for you, our HealthBeat Readers. Your response was great, and our "family-size" 50mg, 90 tablet bottles are completely sold out – sorry if you missed out on those!
We now have only a couple dozen of the Iodoral 50mg, 30 tablet bottles left – these are an "emergency rescue supply" for one adult since they can supply the government-recommended 125mg initial dose and provide up to 11 additional doses for continued dosing if or as recommended by emergency officials.
We still have a supply of the Iodoral 12.5mg, 90 tablets – perhaps a couple dozen bottles – so for those wanting these smaller dose tablets for child dosing (see our last newsletter – here: for dosing information) of for those wanting to supplement daily with iodine (a good idea!) please move quickly – these will likely be sold out soon.
We have also seen that there is plenty of misinformation about iodine floating around out there right now – with some folks claiming that their iodine product is "all natural" and that others are "synthetic" or "man-made.
Dr. Myatt answered that question for another reader – here is your inorganic chemistry lesson for today:
Iodine usually occurs in nature as a sodium or potassium salt.

When the iodine atom is "free,' it is iodine. When an iodine atom is bound to bound to sodium or potassium instead of a second iodine atom, it is iodide. Both occur in nature.

Bottom line: iodine and iodide are different forms of the same element. One is not "man made."

We are cautioning people to be careful with iodine supplementation – too much can be as bad as too little, as too much iodine can suppress thyroid function.
I recently spoke to and corresponded with Natalija who asked:
Thank you, Nurse Mark, for your email and phone call! Very much appreciated!!!!

You mentioned iodine testing. I couldn't find it on your site. Can you pls send me a link or info as to how to go about doing this?

I am currently giving our 13 and 15 yo daughters Iodoral at a dose of .08 gm per one lb of body weight, as I read on Dr David Brownstein's site.

So our 13 y.o. gets half a 12.5 tablet (she's only 90 lbs) and our 15 y.o. gets about 3/4 of a tablet. I don't want to overdose them but do want to give them enough. We also have done a few iodine patches.

Thank you very much!

Natalija
Natalija is very right to be cautious – and while we have great respect for Dr. Brownstein and his work with iodine, we urge caution when administering iodine in his recommended doses. It is all too easy to "over-do it" with the high doses that he recommends, and actually suppress thyroid function unless iodine levels are being carefully monitored. Here is what I answered Natalija:
Hi Natalija,

You are most welcome – we are happy to help!

Iodine testing is very important as too much iodine can be as problematic as too little – since too much can suppress thyroid function.

We are well-familiar with Dr. Brownstein and have chatted with him, consulted with him, attended lectures and conferences with him, and also attended his medical lectures. He is a great fellow and a fine doctor. He does tend to recommend iodine supplementation that is on "the high side" though, and we feel that iodine levels should be closely monitored when using his supplementation dosing schedules.

We have 2 iodine tests available – a Comprehensive Iodine Test which gives a very complete look at iodine levels and also at bromide levels, and we now offer an economical Iodine Urine Spot Test which is quick, easy, and accurate for spot testing of iodine sufficiency levels. You can find both of these by following this link: https://www.drmyattswellnessclub.com/medicaltests.htm#IODINE

More information about iodine can be found here: https://www.drmyattswellnessclub.com/Iodine.htm

You might also want to consider using Modifilan, an iodine-containing supplement with some very good health-supportive and detoxification properties, for ongoing supplementation and maintenance for your family: https://www.drmyattswellnessclub.com/Modifilan.htm

Cheers,
Nurse Mark
Modifilan is an excellent adjunct to iodoral tablets – this is a product developed by Russian scientists for use following the Chernobyl nuclear disaster. It contains naturally-occurring iodine in small but significant amounts, and it is excellent at detoxifying and chelating contaminant materials from the body – which is the purpose for which it was developed. We still have a limited supply of Modifilan available.
Lina recently wrote to ask about children's doses of Modifilan:
Hi there

I want to know if I can use Modifilan for an eight year old child with autism. He does have a high level of heavy metal in his body. If he can what is the recommended dosage. Please can you send me some info before I buy the product.

Thank you
Lina
And here is Dr. Myatt's answer:
Hi Lina:

From our website, the formula for calculating a child's dose:

Children have smaller dose requirements than adults. The basic formula for determining a child's dose is: age divided by (age + 12). The resulting number equals the portion of an adult dose to give. For example, the correct dose for a 6-year-old would be 6 divided by 18 = one-third of an adult dose.

Yes, children can use Modifilan. In fact, this was the substance used by both adults and children after the Chernobyl accident to help detoxify.

Hope this helps!

In Health,
Dr. Myatt
Other radioactive releases and emissions are causing concern lately, and one writer asked about the dangers from plutonium and about whether increased intake of iron could help block the absorption of plutonium or MOX (Mixed Oxide – a blend of uranium and plutonium used as reactor fuel) in the same way that iodine blocks the uptake of radioactive iodine.
News reports are telling us that very minute amounts of these substances may indeed be finding their way into the environment, but my personal, non-radiation-scientist feelings are that the dangers from this should be minimal – these are very small emissions (so far) and these particles may not be able to travel far as they tend to be relatively heavy. My understanding is that they can be absorbed only by ingestion (eating or drinking something that has been physically contaminated) or inhalation (breathing in particles, probably as part of dust or smoke or steam that has been contaminated) or by having these substances enter the body through an open wound. All these means of absorption tend to imply some fairly close proximity to a nuclear disaster – which might give you more immediate things to worry about!
As to increasing iron intake, the theory sounds fine at first blush – but iron has problems and toxicities of it's own. Iron overload can cause the generation of excessive free radicals and can be quite toxic. Most oral iron preparations are also constipating. I would not recommend supplementing iron for anyone who has not been evaluated by a physician and had some basic blood studies done – a CBC, including storage iron and ferritin at least – and been found to be truly in need of iron supplementation. Children can be especially at risk from iron overload and toxicity, as anyone who has ever worked in an E.R. (as I have) or at a poison control center will tell you.
Here is some government-issue information about plutonium: http://www.doh.wa.gov/ehp/rp/factsheets/factsheets-htm/fs28plut.htm
And a recent article by an accupuncturist in Washington state discussing the use of iron to protect from plutonium / MOX exposure: http://www.fridayharborholistichealth.com/2011/03/can-increased-iron-intake-protect-against-radioactive-plutonium/
And finally, a description of MOX and it's use as reactor fuel provided by the World Nuclear Association: http://www.world-nuclear.org/info/inf29.html
Hopefully our Japanese neighbors will be successful in getting their crippled reactors under control, and we'll all be able to breathe easier (pun intended) – but until then, as one customer said as she stocked up on Iodoral "you don't wait until you see smoke before you run out to the store to buy a fire extinguisher!"
She purchased a bottle of Iodoral for each member of her family, and some extras to keep in the family vehicles, at the office, and at their vacation cottage.
Is that excessive? Not at all she explained – she hopes she'll never have to use either her Iororal or her fire extinguisher but she would feel terrible to be caught without them in a time of need and she would feel even worse if one of her family was harmed because she had failed to take such simple and inexpensive measures to be prepared.
Order your Iodoral here: https://www.drmyattswellnessclub.com/Iodoral.htm

Order Modifilan Here: https://www.drmyattswellnessclub.com/Modifilan.htm

Find Iodine testing here: https://www.drmyattswellnessclub.com/medicaltests.htm#IODINE

And here is a website that tracks radiation levels across the United States: http://www.radiationnetwork.com/

Print This Post
Posted in
Family Health
,
Health Questions
|
No Comments »