Don Laughlin Interview Part II: "Old Guys Rule"
By Dr. Myatt with Nurse Mark
In the previous HealthBeat we featured the "Health Secrets of Living Legends: Don Laughlin Interview Part I," where we introduced you to the founder of Laughlin, Nevada. You'll remember that Mr. Laughlin, at age 80, is still the hands-on CEO of his Riverside Resort and Casino in Laughlin, Nevada. We'll also remind you that we found Don to be the embodiment of a vigorous, healthy senior who does not appear to have any intention of slowing down anytime soon, and every intention of maintaining his amazing good health for years to come.
We promised to return to Laughlin to speak with The Man and fill in some gaps that were left by our necessarily brief first visit. Here are the additional "insider health secrets" we uncovered.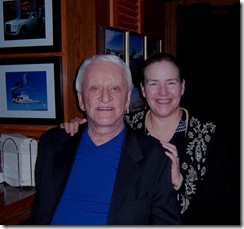 We met Don in his Riverside Casino at a karaoke bar called "Don's Hideaway." We intentionally arrived early so that we could watch him make his entrance, and he didn't disappoint.
Don Laughlin enters a room with a commanding presence although he is not a particularly large man. His demeanor is confident, assured, and friendly. "Come with me" he said, "lets talk."
He ushered us into his offices and said "there's not much more I can tell you that I didn't tell you at our last meeting, but ask away."
We asked what vitamins and supplements he uses and he produced his collection of daily supplements for our examination. There were no surprises or magic potions, just solid, sensible supplements like we might recommend. Here are a few from his daily routine.
Milk Thistle has been a part Don's routine for many years, ever since he had some elevated liver enzymes. He tells us that those numbers returned to normal in short order once he started Milk Thistle, and he's been on it ever since. Since Milk Thistle is a powerful liver-protector, this makes perfect sense.
[Dr. Myatt's aside on Milk Thistle: this incredible herb protects the liver from the effects of environmental toxins (such as carbon tetrachloride, acetaminophen, iron overload, mushroom poisoning) and it is used in Emergency Room medicine in Europe to treat exposure to liver-toxic agents. Milk thistle is a powerful antioxidant, especially to the liver. It has even been recently written up in conventional medical journals for it's ability to protect the liver from the devastating effects of chemotherapy. Learn more about Milk Thistle here.]
Like many informed, health-conscious seniors, Don wisely takes supplemental Vitamin D3. Vitamin D increases calcium absorption, necessary for healthy bones. More recently, higher intakes of vitamin D have been shown to protect the body from cancer, especially prostate and breast cancer. Deficiencies of Vitamin D are associated with cancer, osteoporosis, rheumatic pains, and dental disease.
Knowing that magnesium deficiency is one of the most common mineral deficiencies in the US, Don has added this to his daily routine. Magnesium is involved in energy processes, nerve function, enzyme activation, and protein formation – a valuable addition for anyone but especially valuable to seniors.
Glucosamine is also a regular part of Don's supplementation routine – a good choice for someone who is older and who exercises regularly since studies suggest that a decline of the body's manufacture of glucosamine may be the primary cause of osteoarthritis.
When pressed for details of his exercise routine Don had little to add to what we already knew – most important in his opinion that he exercises for 15 minutes daily "like a religion." His routine is simple and tailored to the available time of a busy man, his own routine of body-weight resistance exercises for strength and flexibility. There is no huffing and puffing or endless running involved in his routine. Don is quite adamant that he has little use for the exhausting fad of aerobic exercise – to which we say a hearty "amen!"
Don also confided (with a big smile) that an additional factor in his fitness and exercise routine is his habit of getting out on the dance floor at least one night a week.
As far as diet is concerned, Don Laughlin does nothing that he considers "special" – no special foods or other regimens, no vegetarianism or calorie-counting. He eats simply, enjoys meats and vegetables, avoids sugars, starches and breads, avoids processed "junk" foods, and above all, eats small portions and stops eating as soon as his hunger is satisfied.
He skips meals if he is not hungry, and also says that sometimes if he feels hungry but is too busy to stop for a mean he'll just ignore it, get back to work, and finds that the feeling of hunger disappears promptly. Unlike many people, he doesn't have the misguided notion that a missed meal will cause him to dry up and blow away!
[Dr. Myatt's aside: skipping meals and "intermittent fasting" has been found to be a very HEALTHY practice, causing the body to manufacture proteins that protect the heart and brain. Most people have the "missed meal" idea backwards.]
Is there a "Fountain Of Youth" in Laughlin, Nevada?
Don told us that someone else would be joining us, and in several minutes another dapper-looking man appeared. Trim, fit, and moving with a muscular grace similar to Mr. Laughlin's, Don introduced him by saying, "This is Del, my General Manager. He is a month older than I am!"
We shook hands with Del. His grip was firm. Del's skin is also firm and smooth. He has a full head of dark hair and, like Don, he looks, moves, and speaks like a man decades younger.
We had to know his secret to remaining vigorous and youthful at his age and not surprisingly his health and fitness tips were similar to Don's – regular exercise, dietary moderation, a healthy attitude and outlook.
Having met these two men, who could be poster-boys for longevity, we began wonder if there is something in the air or water in Laughlin that promotes good health.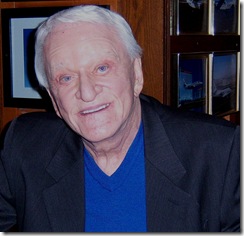 Our final conclusion, however, is that a few simple measures — moderation of diet, small but "religious" daily exercise, a few nutritional supplements and a positive mental outlook — are probably more to the point.
As we parted that evening, Don left us with some words of deep wisdom:
"When you think you know it all, you can't learn any more!"
At the age of 80, with many years of success behind him, Don Laughlin makes it clear that he is not done learning and that the best is yet to come.